Encyclopedia of Islamic Bioethics (EIB)
Synopsis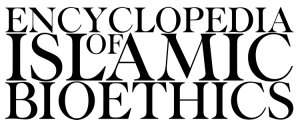 The Encyclopedia of Islamic Bioethics (EIB) aims to serve as a reliable resource for Islamic ethical thought on the wide range of bioethical questions and dilemmas, which cover medical ethics, ethics in the life sciences and scientific research, and environmental ethics. The encyclopedia is divided into two main parts covering: a general conceptual framework; and a number of thematic sections. The conceptual framework comprises a number of relevant topics drawn from Islamic law, theology, philosophical ethics, and ethics of science and technology. The thematic section includes a number of topics divided into several broad bioethical sections such as beginning of human life, human body, healthcare ethics and clinical ethics, reproduction, genetics, society and public health, vulnerable populations, research, and end of human life.
The international editorial board of the Encyclopedia of Islamic Bioethics includes a number of outstanding scholars in the different fields of the interdisciplinary area of bioethics.
Abul Fadl Mohsin Ebrahim
University of KwaZulu-Natal, South Africa
Abul Fadl Mohsin Ebrahim is a Professor of Islamic Studies at the School of Theology and Religion, Faculty of Humanities and Social Sciences, University of KwaZulu-Natal, South Africa. Dr Ebrahim obtained a M.A in Religion and a Ph.D. from Temple University titled: 'Islamic Ethics and the Implications of Modern Biomedical Technology: An Analysis of Some Issues pertaining to reproductive control, biotechnical parenting and abortion.' He specializes in Islamic history, law, ethics, theology and bioethics and has written extensively in these fields. Dr. Ebrahim's publications include: Organ Transplantation: Islamic Ethical and Legal Perspectives 1998, 'Doctor-Patient Relationship – Role of the Muslim Doctor.', 2007,; 'Biology-Creation and Stages of Life' in Encyclopaedia of the Qur'an, 2001; Co-author of 'Death in Islam', a chapter in Death: Medico, Religious and Social Perspectives, 1998; 'Islamic Medical Ethics' in Encyclopaedia of Ethics – 2nd Edition, 2001; in addition to numerous books, book chapters, conference proceedings and articles in academic journals.
Farhat Moazam
Centre of Biomedical Ethics and Culture, Pakistan
Farhat Moazam is the founding Chairperson of the Centre of Biomedical Ethics and Culture, Pakistan. She was the founding Chairperson of the Department of Surgery and the first Associate Dean for Post Graduate Medical Education, FHS, in Aga Khan University, Karachi. Currently she is also a Fellow of the Institute of Practical Ethics and Visiting Professor at the Center for Humanism in Medicine, at the University of Virginia, USA.
Henk ten Have
Duquesne University, USA
Henk ten Have is the Director of the Center for Healthcare Ethics at Duquesne University in Pittsburgh, USA. Dr. Ten Have studied medicine and philosophy at Leiden University, the Netherlands. He received his medical degree in 1976 from Leiden University and his philosophy degree in 1983. He worked as a researcher in the Pathology Laboratory, University of Leiden (1976-1977), as a practicing physician in the Municipal Health Services, City of Rotterdam (1978-1979), and as a Professor of Philosophy in the Faculty of Medicine and Faculty of Health Sciences, University of Limburg, Maastricht (1982-1991). From 1991 he was a Professor of Medical Ethics and the Director of the Department of Ethics, Philosophy and History of Medicine in the University Medical Centre Nijmegen, the Netherlands. In September 2003 he joined UNESCO as Director of the Division of Ethics of Science and Technology.
Ingrid Mattson
Huron University College, Canada
Ingrid Mattson is the London and Windsor Community Chair in Islamic Studies at Huron University College at the University of Western Ontario in London, Canada. Formerly, she was professor of Islamic Studies, founder of the Islamic Chaplaincy Program and director of the Macdonald Center for Islamic Studies and Christian-Muslim Relations at Hartford Seminary in Hartford, CT. She earned her Ph.D. in Islamic Studies from the University of Chicago in 1999.
Khaled Abou El Fadl
University of California, Los Angeles, USA
Khaled Abou El Fadl is one of the world's leading authorities on Islamic law and Islam, and a prominent scholar in the field of human rights. He holds a B.A. in Political Science from Yale University, a J.D. from the University of Pennsylvania Law School, and an M.A. and Ph.D. in Islamic law from Princeton University. Dr. Abou El Fadl is also an Islamic jurist and scholar, having received 13 years of systematic instruction in Islamic jurisprudence, grammar and eloquence in Egypt and Kuwait. He previously taught Islamic law at the University of Texas at Austin Law School, Yale Law School and Princeton University. Dr. Abou El Fadl was awarded the University of Oslo Human Rights Award, the Leo and Lisl Eitinger Prize in 2007, and named a Carnegie Scholar in Islamic Law in 2005. He was previously appointed by President George W. Bush to serve on the U.S. Commission for International Religious Freedom, and also served as a member of the board of directors of Human Rights Watch. He is also the founding advisory board member of the UCLA Journal of Islamic and Near Eastern Law (JINEL), and an editorial board member for Political Theology, the Journal of Religious Ethics, Islamic Law and Society, the Journal of Islamic Law and Culture, and Hawa: Journal of Women of Middle East and the Islamic World, among others.
Marcia C. Inhorn
Yale University, USA
Marcia C. Inhorn is Professor of Anthropology and International Affairs in the Department of Anthropology and The Whitney and Betty MacMillan Center for International and Area Studies at Yale University. She is the current and founding editor of the Journal of Middle East Women's Studies (JMEWS) and has served as director of the Council on Middle East Studies at Yale (2008-2011) and the Center for Middle Eastern and North African Studies at the University of Michigan (2004-2006). She is one of six medical anthropologists in Yale's Department of Anthropology. A specialist on Middle Eastern gender and health issues, Inhorn has conducted research on the social impact of infertility and assisted reproductive technologies in Egypt, Lebanon, the United Arab Emirates, and Arab America over the past 25 years.
Osman Bakar
University of Brunei Darussalam, Brunei
Osman Bakar is Chair and Director of Sultan Omar Ali Saifuddien Centre for Islamic Studies at University of Brunei Darussalam. Dr. Bakar is a scholar, teacher and author whose writings are known throughout many Islamic countries and by Western scholars of Islam. In 1981, he entered Temple University where he completed an M.A. in Comparative Religion and his Ph.D. in Philosophy of Science/Islamic Philosophy. He served as the Deputy Vice Chancellor/Vice President of Academics and was the first holder of the Chair of the Philosophy of Science at the University of Malaya (Kuala Lumpur), a post he held until 2001. He is one of the founding members and has also served as President of the Islamic Academy of Science of Malaysia. His research interests include Southeast Asian Islam, particularly Malaysian-Indonesian Islam, contemporary Islamic thought, and religion and science in the Islamic context, both classical and modern. Dr. Bakar has received additional recognition for his work, including the Fulbright Visiting Scholar at Harvard University and also served as a consultant to various agencies such as the United Nations and UNESCO. Dr. Bakar also served as the Malaysia Chair of Islam in Southeast Asia, Center for Muslim-Christian Understanding and was a member of the Center's Academic Council, where he taught courses on Contemporary Islam in Southeast Asia, Religion and Science in Islam, and Dialogue of Civilizations.
Robert M. Veatch
Georgetown University, USA
Robert M. Veatch is Professor of Medical Ethics at the Kennedy Institute of Ethics and a Professor in the Philosophy Department at Georgetown. He also serves as an Adjunct Professor in the Departments of Community and Family Medicine and Obstetrics and Gynecology at the Georgetown University School of Medicine. In addition to receiving his M.A. and Ph.D. in Religion and Society (medical ethics) from Harvard University, Dr. Veatch holds a master's degree in Pharmacology from the University of California Medical Center, San Francisco. His primary research interests include transplantation ethics, ethical issues in death and dying, and issues of consent in therapy and human subjects' research. A long-time Fellow of the Hastings Center, Dr. Veatch also has served, since 1988, as a Member of the Governing Board and the Medical Advisory Committee of the Washington Regional Transplant Community. He was awarded an honorary Doctor of Humanities degree from Creighton University (1999) and an honorary Doctor of Humane Letters degree from Union University (2004). He received the National Book Award from the National Medical Writers Association for Case Studies in Medical Ethics, the Distinguished Achievement Award of the United Methodist Association (2002), the Research Career Achievement Award from Georgetown University (2005), and the Lifetime Achievement Award, American Society of Bioethics and Humanities (2008).
Tariq Ramadan
University of Oxford, UK/Center for Legislation and Ethics, Hamad Bin Khalifa University, Qatar
Tariq Ramadan is professor of contemporary Islamic studies at the University of Oxford. He is a visiting professor at the Faculty of Islamic Studies (Doha, Qatar), senior research fellow at Doshisha University (Kyoto, Japan) and director of the Research Centre of Islamic Legislation and Ethics (CILE), (Doha, Qatar). He holds an M.A. in philosophy and French literature and a Ph.D. in Arabic and Islamic studies from the University of Geneva. In Cairo, he received one-on-one intensive training in classical Islamic scholarship from Al-Azhar University scholars, obtaining ijazat in seven disciplines. Through his writings and lectures, Dr. Ramadan has contributed to the debate on the issues of Muslims in the West and Islamic revival in the Muslim world. He is active at academic and grassroots levels, lecturing extensively throughout the world on theology, ethics, social justice, ecology and interfaith as well intercultural dialogue. He is president of the European think-tank, European Muslim Network (EMN), in Brussels. His latest books include The Arab Awakening: Islam and the New Middle East (2012); The Quest for Meaning, Developing a Philosophy of Pluralism (2010); What I believe (2009); Radical Reform, Islamic Ethics and Liberation (2008).
Aasim Padela
University of Chicago, USA
Aasim Padela is an emergency medicine physician, health services researcher and bioethicist whose scholarship focuses on the intersection of minority health and bioethics through the experiences of American Muslims. He is an assistant professor of medicine in the sections of Emergency Medicine and General Internal Medicine at the University of Chicago and the director of the Initiative on Islam & Medicine at the same university. He holds degrees in biomedical engineering and classical Arabic from the University of Rochester and an M.D. from Cornell University. From 2008 to 2011, Dr. Padela was a Robert Wood Johnson Foundation clinical scholar at the University of Michigan, and a visiting fellow at the Oxford Centre for Islamic Studies in 2010 and 2011. Dr. Padela's empirical research focuses on the influences of Islam upon American Muslim health behaviors. His normative research explores the ways in which the Islamic tradition encounters modern medicine. In this effort he brings together physicians, traditional jurisconsults, academics, and social scientists to dialogue about the intersections between Islamic ethics and law, health policy and bioethics as they relate to medicine.
Abdulaziz Sachedina
George Mason University, USA
Abdulaziz Sachedina is the chair of International Institute of Islamic Thought, IIIT, and professor in Islamic Studies at George Mason University in Fairfax, Virginia. Dr. Sachedina, who has studied in India, Iraq, Iran, and Canada, obtained his Ph.D. from the University of Toronto. He has been conducting research and writing in the field of Islamic Law, Ethics, and Theology (Sunni and Shiite) for more than two decades. In the last ten years he has concentrated on social and political ethics, including Interfaith and Intrafaith Relations, Islamic Biomedical Ethics and Islam and Human Rights. Dr. Sachedina's publications include: Islamic Messianism (State University of New York, 1980), The Just Ruler in Shiite Islam (Oxford University Press, 1988), The Prolegomena to the Qur'an (Oxford University Press, 1998), The Islamic Roots of Democratic Pluralism (Oxford University Press, 2002), Islamic Biomedical Ethics: Theory and Application (Oxford University Press, February 2009), and Islam and the Challenge of Human Rights (Oxford University Press, September 2009). In addition to co-authoring Human Rights and the Conflicts of Culture (University of South Carolina, 1988) and writing numerous articles in academic journals.
Alireza Bagheri
Tehran University, Iran
Alireza Bagheri is an assistant professor of medicine and medical ethics at the School of Medicine in Tehran University of Medical Sciences. Dr. Bagheri teaches medical ethics to medical students and has initiated a Ph.D. course on medical ethics in 2008. He was a clinical ethics fellow at the Joint Center for Bioethics, University of Toronto, Canada from 2007 to 2008 and Erasmus Mundus Visiting Professor at the University of Leuven, Belgium in 2007. Dr. Bagheri is vice-chairman of the UNESCO International Bioethics Committee (IBC), and serves as a member of the board of the International Bioethics Association (IAB).
Ebrahim E.I. Moosa
University of Notre Dame, USA
Ebrahim E.I. Moosa is Professor of Religion and Islamic Studies at the University of Notre Dame. His interests span both classical and modern Islamic thought with a special focus on Islamic law, history, ethics and theology. Dr Moosa is the author of Ghazali and the Poetics of Imagination, winner of the American Academy of Religion's Best First Book in the History of Religions (2006) and editor of the last manuscript of the late Professor Fazlur Rahman, Revival and Reform in Islam: A Study of Islamic Fundamentalism. He was named Carnegie Scholar in 2005 to pursue research on the madrasas, Islamic seminaries of South Asia. Dr. Moosa earned his MA (1989) and PhD (1995) from the University of Cape Town. He also has a BA degree from Kanpur University, and a postgraduate diploma in journalism from the City University in London. Previously he taught at the University of Cape Town's Department of Religious Studies in South Africa till 1998 and was visiting professor at Stanford University 1998-2001 prior to joining Duke University. He serves on several distinguished international advisory boards and advised the first independent South African government after apartheid on Islamic affairs and serves on committees of the Organization of Islamic Cooperation in addition to others.
Mohammad Hassan Khalil
Michigan State University, USA
Mohammad Hassan Khalil is an associate professor of Religious Studies, an adjunct professor of Law, and the interim director of the Muslim Studies Program at Michigan State University. Before returning to his hometown of East Lansing, Michigan, he was an assistant professor of Religion and visiting professor of Law at the University of Illinois. He specializes in Islamic thought and is author of Islam and the Fate of Others: The Salvation Question (Oxford University Press, 2012) and editor of Between Heaven and Hell: Islam, Salvation, and the Fate of Others (Oxford University Press, 2013). He has presented papers at various national and international conferences, and has published peer-reviewed journal articles and book chapters on various topics, from bioethics to early Islamic historiography to contemporary conversion narratives to soteriology to jihad.
Mohammed Ghaly
Center for Legislation and Ethics, Hamad Bin Khalifa University, Qatar
Mohammed Ghaly is a graduate of Al-Azhar University in Egypt. He was an assistant professor of Islamic law and ethics at Leiden University in the Netherlands, before joining the Center for Islamic Legislation and Ethics (CILE) as a professor of Islam and Biomedical ethics.Dr. Ghaly received his BA from al-Azhar University, and revieved his MA and Ph.D. from Leiden University in the Netherlands. After publishing his book Islam and Disability: Perspectives in Theology and Jurisprudence (2009), he received the prestigious VENI award from the Netherlands Organisation for Scientific Research (NWO) as funding for his research project "Islamic Biomedical Ethics: The Interplay of Islam and the West". Initial results of the project have already appeared as articles published in various academic journals such as Zygon: Journal of Religion and Science and Medicine, Health Care and Philosophy for which he was the guest editor of the thematic issue The Ethics of Organ Transplantation (2012). Dr. Ghaly is a research consultant for the project Islamic Medical and Scientific Ethics. Dr. Ghaly is a research consultant for the Islamic Bioethics Project. He has been invited to lecture on Islam and bioethics at several universities including Cambridge University and Oxford University in the UK, and Oslo University in Norway.
Sarra Tlili
University of Florida, USA
Sarra Tlili is Assistant Professor of Arabic and Islamic Literature at the University of Florida. Dr. Tlili graduated from the University of Pennsylvania, Department of Near Eastern Languages and Civilization. Her primary research interests are stylistics of the Qur'an, animals in Islam and Arabic literature. Among the courses she has taught are The Qur'an as Literature and Sustainability in Arabic Texts.
Ayman Shabana
Georgetown University in Qatar
Dr. Ayman Shabana is Associate Research Professor at Georgetown University's School of Foreign Service in Qatar (SFS-Q). Prior to joining SFS-Q, he taught at several institutions including the University of California, Los Angeles, the University of Tennessee, Knoxville, and Florida International University. He received his Ph.D. from the University of California, Los Angeles, his MA from Leiden University in the Netherlands, and his BA from al-Azhar University in Egypt. His teaching and research interests include Islamic legal history, Islamic law and ethics, human rights, and bioethics. He is the director of the Islamic Bioethics Project, which has been supported by three consecutive grants from Qatar National Research Fund's National Priorities Research Program. In 2012 he received the Research Excellence Award at the Qatar Annual Research Forum and during the academic year 2013-2014 he was a visiting research fellow at the Islamic Legal Studies Program at Harvard Law School.